Winner's Circle®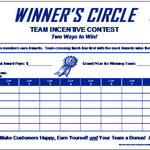 Winner's Circle®
SKU:
Exclusively Ours! 

This game can be used for individual and team incentives. Use this game to increase sales from your salespeople, stimulate add-on sales from your technicians, recognize special contributions made by your employees, promote team spirit, build morale, etc. You can use monetary awards or create your own incentives.

Here's How It Works: An employee earns an award as a "bonus." Individual Awards also help their team earn a Grand Prize. When an individual earns an Award, A Race Car sticker is placed in the lane corresponding to their team, in consecutive Lap order. The employee's name is written on the Race Car. The first team to cross the Finish Line with the most Awards earns a trip to the Winner's Circle for the Grand Prize! Individual Awards and team Grand Prize are determined by the Manager.

Next quantity price break: 5. Call for prices.